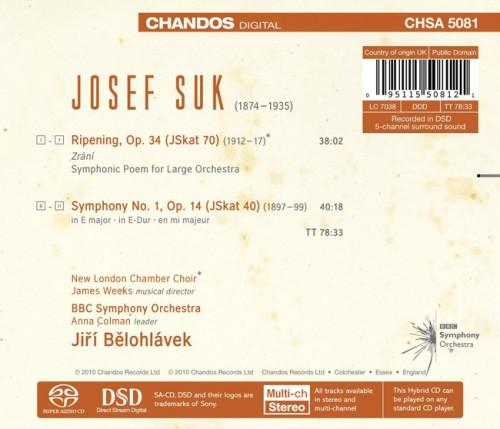 Suk - Orchestral Works - BBC SO, Jiri Belohlavek - Ripening, Symphony in E major Op. 14 - 2010 SACD-DST-ISO
声道:双声道(Stereo) 多声道(Multichannel) 
专辑介绍
Joseph Suk: Ripening, Symphony in E major Op. 14
New London Chamber Choir
BBC Symphony Orchestra
Jiří Bělohlávek (conductor)
The Czech maestro Jirí Belohlávek performs works by his countryman Josef Suk, conducting the BBC Symphony Orchestra, with whom he is their Chief Conductor.
As a composer, Josef Suk followed in the tradition of Smetana and Dvorák, the latter of whom was not only his professor at the Prague Conservatory, but also became his father-in-law – Suk married Dvorák's oldest surviving daughter, Otilie, in 1898, and the death of Dvorák in 1904 and 'Otilka' a year later resulted in the composition of one of the composer's most powerful and deeply felt works, the Asrael Symphony – also recorded by Belohlávek (CHAN 9640). Like Novák – another key Dvorák pupil – Suk fully embraced his national background, composing in a late romantic style imbued with his individual approach to impressionism and native folk culture.
Following the success of his Serenade in E flat, Suk wished to take up the challenge of writing a symphony, influenced as he was by the contributions to the genre of his own teacher, and of Brahms. Suk's First Symphony was actually begun in London in 1897 and completed two years later. This new CD provides an excellent opportunity to hear the rarely recorded early work, with its fresh melodic appeal and inventive orchestration.
Ripening is one of the composer's masterpieces, a highly colourful and superbly sustained symphonic poem, brilliantly orchestrated, with a chorus making its wordless contribution at the work's late, emotional highpoint. Suk said of Ripening: 'I worked on this composition for almost five years. In its very cohesive musical form you will find all degrees of human emotions. In this piece I immerse myself once more into the joys and tragic shadows of life but towards the end I emphasise, in the large fugue, that work is the liberator. After a large and passionate build-up of tension and excitement, towards the end a deep calm arrives in which, however, shimmers a hymn of affirmation and life.'
专辑曲目
01 The Ripening, Op. 34. Adagio, quasi Andante
02 The Ripening continued. Poco allegro inquieto...
03 The Ripening continued. Adagio
04 The Ripening continued. Piu tranquillo...
05 The Ripening continued. Allegro
06 The Ripening continued. A tempo
07 The Ripening continued. Adagio e sempre tranquillo
08 Symphony No. 1 I. Allegro ma non troppo
09 Symphony No. 1 II. Adagio
10 Symphony No. 1 III. Allegro vivace
11 Symphony No. 1 IV. Allegro
暂无链接