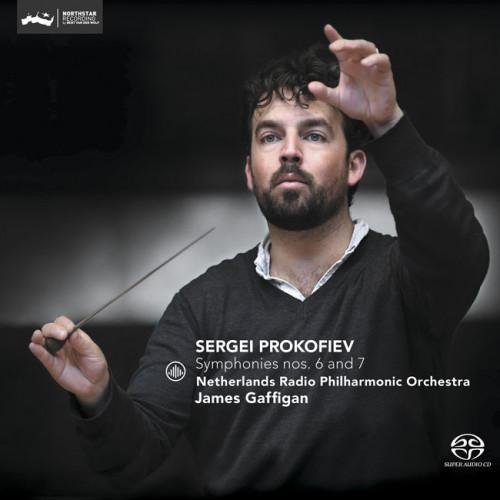 Netherlands Radio Philharmonic Orchestra, James Gaffigan - Prokofiev: Symphonies Nos. 6 & 7 [DSD128] SACD-DSD-DSF
风格:国外 古典 交响乐
声道:  双声道(Stereo) 
资源格式:SACD-DSD-DSF
专辑介绍
The second volume in the ongoing series devoted to Prokofiev's symphonic output from American conductor James Gaffigan and the Netherlands Radio Philharmonic Orchestra, pairs the final two symphonies, the Sixth and Seventh.
Following the cycle's powerful start with Symphonies Nos. 3 and 4 (CC72584), once again these are two works separated by just few years in composition: 1945 and 1952. The harmony in Prokofiev's Symphony No. 6 is fundamentally tonal, replete with omens and dissonances that sometimes resolve but sometimes testify to his predilection for abrupt shifts of mood, derived from film music, or for unpredictable gear changes from lyrical to more restless melodies.
The Seventh symphony is one of the last works completed by Prokofiev before his death. The composer was seriously ill in his final years and continued to compose only with the greatest difficulty. It is difficult to imagine this background when listening to the piece, which the composer himself regarded as a 'children's symphony'. Written for children it may have been, but it contains absolutely nothing childish or childlike.
专辑曲目
01 - Symphony No. 6 in E-flat minor, Op. 111- I. Allegro moderato    
02 - Symphony No. 6 in E-flat minor, Op. 111- II. Largo              
03 - Symphony No. 6 in E-flat minor, Op. 111- III. Vivace            
04 - Symphony No. 7 in C-sharp minor, Op. 131- I. Moderato           
05 - Symphony No. 7 in C-sharp minor, Op. 131- II. Allegretto        
06 - Symphony No. 7 in C-sharp minor, Op. 131- III. Andante espressivo
07 - Symphony No. 7 in C-sharp minor, Op. 131- IV. Vivace
百度网盘